In the past five years Eric has had the privilege to have many of his former students transition to intern music teachers and staff teachers for Millere Music. The Miller Music team of teachers share the same teaching philosophy, love for teaching and passion for music. Please read their bios below.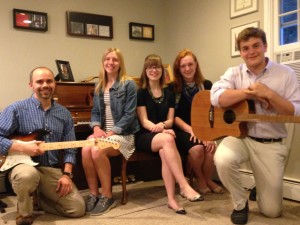 Photo from left to right: Eric Miller, Risa Lewis, Sophia Maricevic, Dolores Mihaliak, and Charlie Mihaliak Andre Stefano (not pictured)
Miller Music In Home Music Teachers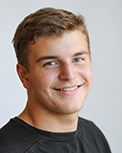 Charles Paul – Guitar
Charles Paul is a singer/song writer from Connecticut. He began music studies on the piano at the age of 5 and quickly developed an interest in the guitar, with a focus on both classical and finger style techniques. At the age of 14 he began exploring songwriting. Following his attendance at a Matt Maher concert, his interest became a passion. One of Charles Paul's first original songs, Rainfall, won the annual Miller Music Songwriting Competition in 2014. In the same year, Charles released his debut EP, Learning to Dance in the Rain. This release prompted CharlesPaul to start performing across New England at bistros, local and state fairs. A year later, he released his first, full-length, studio album, SKYWARD, featuring 9 original songs. At age 15, CharlesPaul is working hard to stretch his musical and songwriting skills while entertaining fans across New England.
Sofia Maricevic – Piano
Sofia began playing piano at the age of four and has been studying with Eric Miller since 2011. She has composed and recorded songs and has her own album on iTunes. Sofia also plays guitar and bass guitar and has been singing in Connecticut Children's Chorus at the Hartt School of Music, Community division for two years. She is currently a junior at Conard High School. She joined the Miller Music Intern Teachers Program in September 2016. She also has a black belt in Tae Kwon Do so don't mess with her!
Richard Kirby -Piano Teacher Miller Music, LLC
Richard Kirby began playing piano at age 11. He studied classical, gospel, jazz disciplines in private lessons for 7 years. Richard continued to develop this skills as a member of the Hotchkiss School jazz ensemble "Right Brain Logic" and later at college playing piano for the George Washington University Gospel Choir. He has his BSc in leadership and management from NYU. He continues to share his passion for music by mentoring high school musicians at his church and performing with the worship team during service.
Matt Peterson- Guitar Teacher Miller Music, LLC
Matt grew up in Farmington and began studying music on the cello at age 7. Contemporary music played by the worship team in his church inspired him to learn guitar at age 13 and started playing acoustic with the worship team at age 15. The classical skills learned from playing the cello have helped him grow as a guitarist, and he is now a worship team leader at his church. Matt now sings and plays the electric guitar. Matt graduated from Farmington High School in 2014 and has been studying Economics at UConn, where he played in the UConn Symphony Orchestra in the Fall of 2015.