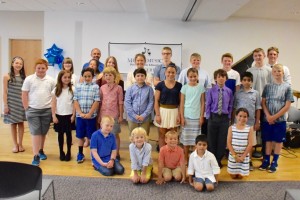 "Eric is wonderful! He is great with kids and makes learning music fun! I highly recommend Eric to anyone wanting someone who is professional, approachable, and passionate about teaching music!" H.D.
"Best teacher ever! Easy going and very professional. Great for all levels" M.B.
"Eric has been a fixture in our lives for the past seven years, teaching piano to both our daughter and son. He has a very gentle teaching style that he infuses with humor, kindness and respect. My kids have always been engaged in his lessons because he creates a fun and personalized learning environment where they feel safe to express themselves. Eric is a consummate professional, as well as an inspirational musician. We're so fortunate that he has taught our children the joy that comes from playing an instrument." – S. & J.G.
"I love taking lessons with Mr. Miller because I choose the music I want to play and he teaches me." – J.L.
"Eric's unique approach to teaching children is encouraging and intuitive to each child's learning style and musical interest. My children actually want to practice! " – M.H.
"Eric is very gentle in his coaching and tries to find ways to make the music connect with the child's interests." – J.C.
"Eric is really fun and a really good teacher." – M.C.
"Awesome piano teacher! Upbeat, patience, and totally cool teaching my kids." – R.L.
"Eric is the best teacher I have ever had. He teaches you what you want to know while teaching you what you need to know." – I.D.
"I recommend Eric as a guitar teacher without reservation. He knows how to connect with my daughter as a person and as a musician. I never have to remind her to practice….she plays for the joy of it." – S.D.
"Eric's style and approach to teaching makes lessons for my children so much fun that they can't wait to see him each time. Lessons with Eric are exceptional." – J.O.
"My BEST Christmas gift was the CD from my daughter singing that you helped her with. It was a lovely surprise and she couldn't have done it without your help." – J.M.
"Eric is an outstanding teacher and I'm happy for my kids to just be around him and hopefully soak up his positive qualities. His expertise in music education coupled with his soothing demeanor is a winning combination." – C.C.