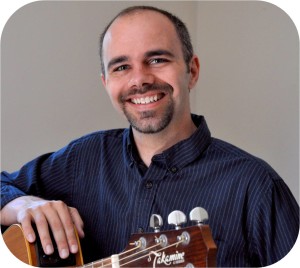 Eric Miller is the owner of Miller Music. He is an award-winning composer with 18 years experience as an accomplished musician and music educator.

Eric holds his B.M. in Film Scoring from the Berklee College of Music and has received awards such as the Parents Choice Award, and the Berklee Award for Outstanding Musicianship.
As a music educator, Eric enjoys working with students of all ages, levels and backgrounds. He creates a fun, "you can do it" environment, bringing to his teaching the highest level of support and respect for his students. Eric personally tailors each lesson to the student's needs, interests and pace, while challenging them to improve their musical abilities. Eric is also an adjunct professor at Tunxis Community College in Farmington, CT. He teaches the history of rock 'n' roll and music production at the college.
As a composer, Eric has written music for over two hundred different productions, ranging from educational programs and commercials, to music for websites and multimedia. He writes and records all of the music at Miller Music Studios.
Additionally, Eric serves on the worship team at Valley Community Baptist Church in Avon, CT. He plays acoustic, electric and bass guitar on the team.
When not busy with music, Eric teaches the Alexander Technique; a method for improving performance and decreasing bodily stress and fatigue. He is certified by the American Society of the Alexander Technique and trained at the Alexander Technique School New England. He and his wife Sara Miller started Miller Alexander Technique and teach private lessons and workshops at their home studio. For more information visit MillerAT.com
Eric has also released several independent albums of his music. Most recently he released an album called Spirit. Please click here to view it in iTunes.
Miller Music In Home Music Teachers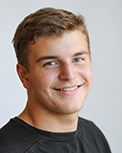 Charles Paul – Guitar
Charles Paul is a singer/song writer from Connecticut. He began music studies on the piano at the age of 5 and quickly developed an interest in the guitar, with a focus on both classical and finger style techniques. At the age of 14 he began exploring songwriting. Following his attendance at a Matt Maher concert, his interest became a passion. One of Charles Paul's first original songs, Rainfall, won the annual Miller Music Songwriting Competition in 2014. In the same year, Charles released his debut EP, Learning to Dance in the Rain. This release prompted Charles Paul to start performing across New England at bistros, local and state fairs. A year later, he released his first, full-length, studio album, SKYWARD, featuring 9 original songs. At age 15, Charles Paul is working hard to stretch his musical and songwriting skills while entertaining fans across New England.
Sofia Maricevic – Piano
Sofia began playing piano at the age of four and has been studying with Eric Miller since 2011. She has composed and recorded songs and has her own album on iTunes. Sofia also plays guitar and bass guitar and has been singing in Connecticut Children's Chorus at the Hartt School of Music, Community division for two years. She is currently a junior at Conard High School. She joined the Miller Music Intern Teachers Program in September 2016. She also has a black belt in Tae Kwon Do so don't mess with her!
Richard Kirby – Piano
Richard Kirby began playing piano at age 11. He studied classical, gospel, jazz disciplines in private lessons for 7 years. Richard continued to develop this skills as a member of the Hotchkiss School jazz ensemble "Right Brain Logic" and later at college playing piano for the George Washington University Gospel Choir. He has his BSc in leadership and management from NYU. He continues to share his passion for music by mentoring high school musicians at his church and performing with the worship team during service.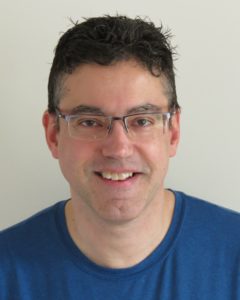 Keith Ratte – Drums
Keith started playing drums when he was 11 years old. He studied classical, rock and jazz drumming in private lessons for over 5 years. Keith developed his drumming by playing in high school marching, concert and stage bands. During and after his high school years, Keith played in various community ensembles and wedding bands. At age 22 Keith began to teach drums at the music studio where he had previously taken lessons, discovering a passion for teaching drums that carries on today. During his adult years, Keith has played with many different concert bands, blues bands, Christian rock bands and even enjoyed a regular gig of playing music on a street corner. Keith currently plays drums with the worship team at his church.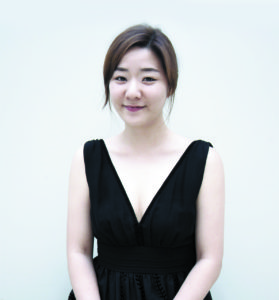 Seuli Koo – Piano
Seuli Koo began piano studies at the age of five. She has given many solo and chamber recitals in United States and South Korea. Koo is a pianist of Springfield First Korean Church of the Nazarene in MA and she has held the position of piano accompanist at Suwon CheonCheon Presbyterian Church for 15 years. Seuli Koo gives piano lessons to adults and secondary school students, also she worked as a volunteer who gives piano lessons for children of broken families with The Suwon City Health Center. She won prized in number of competitions, including 1st place in the 17th Korea Music National Competition. Koo received her Bachelor of music degree from the Kyung Hee University in South Korea. She holds a Master of Music degree from The Hartt School, where she was the recipient of the Talent Scholarship and served as an instrumental accompanist. She currently attends The Hartt School for a Graduate Professional Diploma, studying with David Westfall.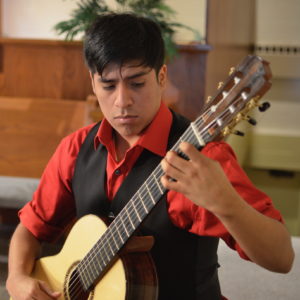 John Cesar – Guitar
Born in Peru, international artist John Cesar is an up and coming classical
guitarist. His musical studies began at the age of 13 with the electric guitar, and
later he made the decision to pursue classical guitar studies in college. John
graduated in 2016 from Montclair State University with a degree in instrumental
performance under the instruction of guitarist Darren O'Neill. Throughout his
undergraduate studies John worked on occasion with guitarists David Graessle,
Sylwia Kloc, Seth Himmelhoch and world renowned guitarist Jorge Caballero.
John has made appearances in the New York City area, New Jersey and
Connecticut, including performances at the Alexander Kasser Theater and the
famous Trumpets Jazz Club in Montclair New Jersey. John is the founder of the
New Jersey based concert series Classical Concerts at Grace, where he
currently manages and also is a regular performing artist. John recently
performed at Inabif, a major orphanage in Lime, Peru.
John has played for notable professional guitarists such as Scott
Tennant, Carlos Barbosa Lima, Jason Vieaux, Michael Partington, The Newman
Oltman Duo, Richard Provost, and Jorge Caballero. John has performed in a
variety of chamber works and has received chamber instruction from Broadway
singer Jan Prokap, pianist David Witten, early music specialist, Jeffery Gaul,
flutist Susan Palma, and the world famous Shanghai String Quartet.
John is a student at the Hartt School of Music on a performance-based
scholarship. He is a student of multi-award winning guitarist, Christopher Ladd.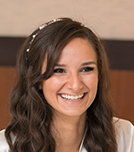 Jessica Bujok – Piano
Jessica is originally from the little town of Green Lane, PA. She started playing piano at the age of 6 and later went on to graduate from Palm Beach Atlantic University with a Bachelor's Degree in Music with a Piano Principal. Upon graduating, she received the Sylvia L. Brainen Palm Beach Piano Quartet Scholarship Award in the 2014-15 Competition for the PBAU School of Music and Fine Arts.
Jessica participated in the New Jersey Music Teacher's Association (NJMTA) where she performed for a total of nine years ranking Excellent and High Honors. Learning the piano gave her many opportunities to perform at teacher luncheons, assemblies, and school talent shows in middle school and high school. It also gave her an opportunity to accompany her high school choir.
Her passion is teaching piano, and she has experience teaching piano to kids and adults for 6 years.